Understand Bear Behavior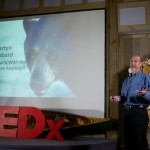 The following video explains the black bear's ecology and what drives them. Very informative.
The Black Bear – Dr Martyn Obbard Dr. Martyn Obbard is a Research Scientist with the Wildlife Research and Development Section, Ontario Ministry of Natural Resources (OMNR) based in Peterborough, Ontario, Canada and an Adjunct Professor in the Environmental and Life Sciences Graduate Program at Trent University in Peterborough. Martyn has studied black bears and polar bears in Ontario since he joined the Wildlife Research Section of OMNR in 1989.
Bear Vocalizations/Bear Talk –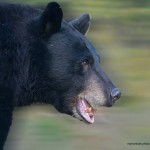 Watch this video and learn the answers to these questions? Is the bear afraid or angry? How do I react as a person? Did you know a bear does not growl? They make many other sounds, such as moans, whines, grunt like chuckles and they clack their teeth. They may also stomp their feet or bluff charge.
Why? See and hear bear talk: How Bears Talk – by Wise About Bears
Body Language – coming soon …